The Best of Kamtchatka - with National Geographic
Booking Dates
11/21/2019 through 09/17/2021
Travel Dates
11/21/2019 through 10/04/2021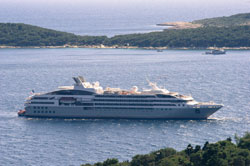 The Best of Kamtchatka – with National Geographic
In partnership with National Geographic Expeditions.
Set sail with PONANT for a 15-day expedition cruise in the Russian Far East aboard LeSoléal. Discover the highlights of the BeringSea, and fall under the spell of this unique unspoiled and little-visited region, home to rich wildlife on land as well as in the sea.
You will board your ship in Nome, in Alaska, before charting course towards Russia.
You will sail the strait discovered by the Danish explorer Vitus Jonassen Bering at the beginning of the 18th century. This 83-km-long natural border connecting the Bering Sea to the Chukchi Sea is used at the end of summer every year by numerous Pacific walruses, the emblematic species of the Far North.
On the eastern tip of Russia, you will discover the vast expanses of the colourful tundra of Chukotka, one of the world's most isolated regions.
LeSoléal will then reach Kamchatka, a peninsula of spectacular volcanic landscapes, where you may have the chance to observe the Kamchatka brown bear and many sea birds and marine mammals: northern fulmars, guillemots, puffins, cormorants, Steller's eiders, Aleutian terns, Steller's sea eagle, Steller's sea lions and other species of sea lions, and whales.
We are privileged guests in these extreme lands where we are at the mercy of weather and ice conditions. The itinerary, landings on certain sites and the observation of certain wildlife cannot be guaranteed. They vary from day to day, making each PONANT cruise a unique experience. The Captain and the Expedition Leader will make every effort to ensure that your experience is as rich as possible, while complying with the safety rules and instructions imposed by the AECO.
Itinerary
Destination
Pricing
Terms and Conditions
| Day | Description | View All |
| --- | --- | --- |
| Day 1 | Nome, Alaska | Details |
| Day 2 | At Sea | Details |
| Day 3 | At Sea | Details |
| Day 4 | Chukotka | Details |
| Day 5 | Chukotka | Details |
| Day 6 | Chukotka | Details |
| Day 7 | KamcHatka Peninsula | Details |
| Day 8 | KamcHatka Peninsula | Details |
| Day 9 | KamcHatka Peninsula | Details |
| Day 10 | KamcHatka Peninsula | Details |
| Day 11 | KamcHatka Peninsula | Details |
| Day 12 | KamcHatka Peninsula | Details |
| Day 13 | KamcHatka Peninsula | Details |
| Day 14 | KamcHatka Peninsula | Details |
| Day 15 | Petropavlovsk-KamcHatsky | Details |